Flour Flower is an artisan bakehouse, located in the heart of Kinglake West
We specialise in stoned baked sourdough, free range meat filled pies and speciality house made cakes. Our large bakery also features an all day breakfast menu and a vast outdoor courtyard with under cover seating.
Flour Flower Bakery is open 7 days including on major public holidays. Located only one hour from the centre of Melbourne, and offering a wide array of baked goods and coffee, made with beans from local roasters Arthur's Creek Coffee, a visit to Flour Flower should be on every bakery lover's bucket list!

Walk ins are welcome or email to reserve a table - info@flourflower.com.au
Visit Flour Flower
1274 Whittlesea-Yea Road, Kinglake West
Mon - Fri, 6am - 3.30pm
Sat - Sun, 8am - 4pm

OUR FAMOUS SOURDOUGH
Our artisan style sourdough is developed over 48 hours. The process involves a long period of resting the dough with hourly hand folding to develop the flavour and texture. 

The starter used to create the dough is 90 years old. We imported it from France and rehydrated it in 2022 when we opened our doors. 

With so much effort that goes into producing our bread, it's little wonder why many have said it's the best they've ever tasted!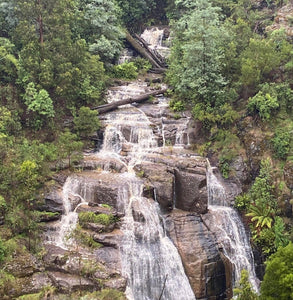 LOCAL ATTRACTIONS
Masons Falls is located within the stunning Kinglake National Park. Located close to Masons Falls is the Masons Falls Picnic Area. Enjoy a picnic under the towering gums and beautiful natural surroundings. A large sheltered area, free gas barbeques, plenty of tables and toilet facilities make it the perfect spot for social gatherings. From the Picnic Area there are several short walks, including one that leads to the spectacular Masons Falls lookout.